Venue & Hospitality
Welcome to the official attendee accommodation site for the
30th Global Summit on Pediatrics and Neonatology
, scheduled at
Brisbane, Australia.
Accommodations will be provided at:
Novotel Brisbane
200 Creek St., Brisbane City
Queensland 4000, Australia
Phone: +61 7 3309 3309
Conference Dates: March 15-16, 2019,
Hotel Services & Amenities
Audio/Visual Equipment Rental.
Business Center.
Business Phone Service.
Complimentary Printing Service.
Express Mail.
Fax.
Meeting Rooms.
Office Rental.
Photo Copying Service.
Secretarial Service.
Telex.
Typewriter.
Video Conference.
Video Messaging.
Video Phone.
ATM.
Baggage Storage.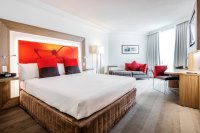 Transportation
Transportation: Novotel Brisbane Airport -Shuttle Services and Transfers

Airport Shuttle Service

The Novotel Brisbane Airport shuttle service is operated by Limoso Limousine Services, running on a scheduled loop service between the hours of 5-9am and 5-9pm.

• Regular shuttle service with pick up and drop off times at the airport terminals so you will know your approximate wait time.
• Clear pick up and drop off points at both the domestic and international terminals.
• $5AUD per person each way is payable in cash to the driver.
• For further information please contact our Concierge team on 07 3175 3100.

MORNING SHUTTLE

Hotel
0500 0530 0600 0630 0700 0730 0800 0830 0900

Domestic
0510 0540 0610 0640 0710 0740 0810 0840 0910

International
0520 0550 0620 0650 0720 0750 0820 0850 0920

EVENING SHUTTLE

Hotel
1700 1730 1800 1830 1900 1930 2000 2030 2100

Domestic
1710 1740 1810 1840 1910 1940 2010 2040 2110

International
1720 1750 1820 1850 1920 1950 2020 2050 2120

Please note: the above times are approximate and may vary due to traffic conditions

Skygate Terminal Bus

Outside of the shuttle operating hours, the hotel recommends catching the free Skygate Terminal Bus service between the airport terminals and Skygate (Novotel Brisbane Airport is located in Skygate). The bus is operated by Brisbane Airport and drops off at Woolworths which is just a short walk across the car park to the hotel.

To view the Terminal Bus timetable visit www.skygate.com.au

Private and Group Transfers

Novotel Brisbane Airport can arrange private transfers to and from the airport, as well as popular destinations within Brisbane at any time of the day. Available vehicles include luxury sedans, European saloons, super stretch, people movers, mini buses, and large coaches. For bookings and pricing, contact the Hotel's Concierge team on 07 3175 3156.

Source: Novotel Hotel Official Website
About City
About Brisbane
Positive and forward-thinking, generous and optimistic, Brisbane is Australia's new world city. Located on the east coast of Australia in the heart of one of the country's fastest growing regions, Brisbane is the capital of Queensland - a state well known for its natural beauty and world-class tourism attractions.
Home to almost two million people and boasting a great outdoors lifestyle and the greatest variety of native wildlife (dugongs, wild dolphins and koalas just to name a few) of any capital city in Australia, Brisbane offers an impressively diverse menu of leisure and recreational activities. From art lover to outdoor adventurer, Australia's third largest city caters to all tastes.
Along with the cosmopolitan and urbane offer of world-class shopping, restaurants, nightlife, culture and entertainment, Brisbane lives and breathes outdoor experiences. From kayaking on the river, to cuddling a koala, to hand-feeding wild dolphins at sunset, visitors can enjoy a range of unique and memorable Australian experiences.
Brisbane's prime location, excellent transport infrastructure and proximity to the marine sanctuary of Moreton Bay also make it the ideal launch pad for day-trips to some of the country's most well-loved tourist attractions, including the Gold Coast, Sunshine Coast and iconic Australia Zoo.
The weather
A consistent climate of blue skies and warm sunshine! Weather so good it makes alfresco dining a year-round activity.
Walkability
Brisbane is a compact city, perfectly suited for pedestrian strolling. Most venues and facilities can be easily accessed by foot.
International air access
More than 20 international airlines fly directly into and out of Brisbane. Brisbane's International Airport - applauded by the International Air Transport Association for its efficiency and outstanding customer focus - is conveniently located just 20 minutes from Brisbane's city centre.
Affordability
Brisbane offers great value for money. Australia's exchange rates, coupled with favourable local prices for accommodation, wining and dining, entertainment and shopping help delegate dollars stretch further.
International expertise
Brisbane is firmly establishing an influential foothold in the international community and offers excellent links to knowledge leaders in a range of industries such as healthcare and life sciences, mining and energy, creative industries and ICT.
Environmental initiatives
Brisbane's Green Heart CitySmart initiative, has seen local residents and businesses commit to a program of environmental initiatives designed to make Brisbane Australia's most sustainable city and a carbon neutral destination by 2026.
Diversity of local leisure activities
From unique urban experiences to authentic Australian outdoor adventures, Brisbane offers a great mix of recreational pursuits and easy day-trip options ideally suited to pre and post touring and partner programs.